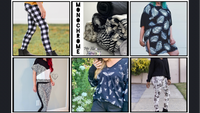 Livin' in a Material World
We are a Southern California based Fabric Shop that sells Closeout and Affordable fabrics. We bring them to you with Love and Passion for what we do. Please come join our Facebook Group to enjoy the full Experience.
Join Group
About Us
We are a Small Fabric Shop based out of Southern California. We strive to offer great prices, quality knits, and excellent customer service.  With new inventory coming in often, we hope to have something to offer everyone!
In order to stay "in the know" join our Facebook Group by clicking the link below.
My Favorite Fabrics